---
Security Print
---
Apex Printry (Pvt.) Limited is a market leader in security printing for the past 60 years. We are the only security printer in Pakistan who has permission from Ministry of Commerce to import CBS-1 Security Cheque Paper and we follow the highest standards set by the State Bank of Pakistan. At present, Apex Printry fulfills the security printing requirements of 99% of Pakistan's commercial banking sector and 80% of overall banking sector.
Examination printing, election printing or any other security print requirement, our security printing producs will ensure all your highest standards are met.
---
Technology
---
We use the state-of the art technology to meed the highest and best-in-class standards for all your security printing needs.
---
Accreditations
---
Quality, security, environmental impact, peace of mind and customer service are the cornerstones of our business. While we are specialize in production of cheques for some of the top banks in the country, however, our product portfolio is not limited to it. Here are some of our top of the line products that we have perfected in over 60 years of specialized security printing experience.
---
Verticals
---
| Banking | Retails and Events |
| --- | --- |
| Personalized Cheque Books | Dividend Warrants |
| Pay Order/Demand Draft | Share Certificates |
| Call Deposit Receipts/Term Deposit Receipts | Letter Head(s) |
| Customized Cheques (Cut Sheets) | Transfer/Allotment/Allocation Letter(s) with Security Features |
| Customized Cheques (Continuous) | Customized Cheques (Cut Sheets) |
| Dividend Warrants | Customized Cheques (Continuous) |
| Printed Envelops | |
In addition to above, we are also deal in the printing of below mention General Stationery items/products.
Business Cards
Double Sided Cards
Folded Cards
Picture Cards
Spot UV Coated
Vertical Cards
Visiting Cards
Calendars
Desk Calendars
Pocket Calendar
Wall Calendars
Envelopes
Large Envelopes
Small Envelopes
Windows Envelopes
Stationery
File Covers
Presentation Folder
Profiles
Carbonless Business Forms
Marketing Materials
Bi-fold brochures
Tri-fold Brochures
Catalogues
Flyers
Leaflets
Pamphlets
Posters
Other
Annual Reports
Certificates
Labels
Letterhead
Menus
Stickers
Brochures
Flyers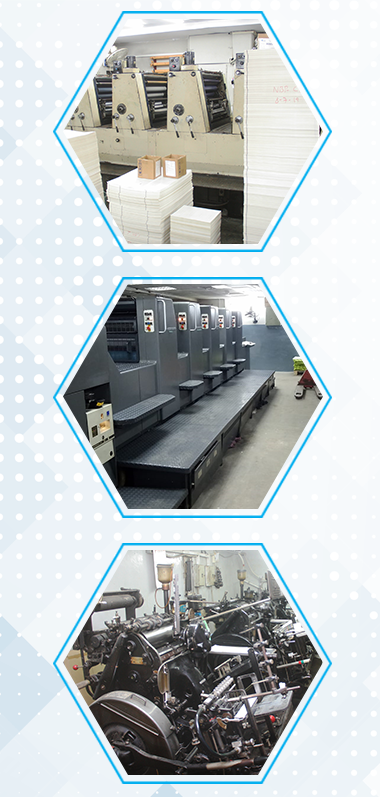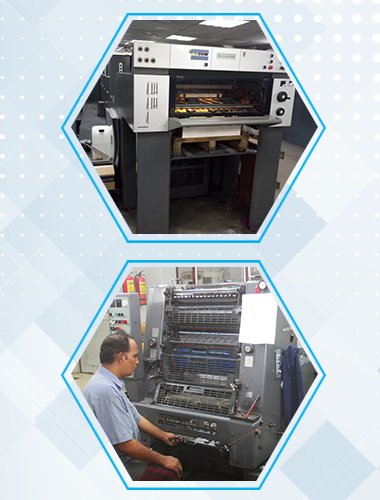 Products we offer to our clients Includes.
Personalized Cheque Books
Call Deposit Receipts/Term Deposit Receipts
Customized Cheques (Cut Sheets)
Customized Cheques (Continuous)
Dividend Warrants
Printed Envelops
Dividend Warrants
Share Certificates
Letter Head(s)
Transfer/Allotment/Allocation Letter(s) with Security Features
Printed Envelops
Customized Cheques (Cut Sheets)
Customized Cheques (Continuous)
All products include the following security features:
I) Enhancer Coding
II) UV Printing
III) Anti-Forgery Ink
IV) Water Mark Logo
---
Ticket Printing
---
APEX also produces event tickets for concerts, festivals, and sports events of any size or format. Protect your event from unwanted attendees and business loss from counterfeit tickets with the appropriate combination of security features on your tickets, fluorescent UV inks visible only under black light and various numbering options. If you require your tickets to be personalized and mailed to your customers directly, we can do that for you too.
---
Educational Stationary Printing
---
APEX provides a one stop solution for all your examination printing needs, including personalized documents required for examinations, question papers and answer papers. Our highly efficient variable data printing processes and finishing solutions eliminate production errors and provide you with the peace of mind that the right documents will arrive at the right place at the right time.
Working with your data we can offer a complete print on demand and fulfillment service, including the printing and collation of personalized question papers, answer booklets, examiners guidelines and certificates to be distributed to individual examination centers.
Related products and services
• Degree
• Exam form
• Question Papers
• Answer Sheets
• Certificate Printing
• Print on demand
• Validation software
APEX produces millions of these forms and our attention to quality and accuracy is unmatched in the industry.

---
Certificate Printing
---
Secure Certificate Printing
Our expertise in document fraud prevention, detection, and deterrence has assisted universities, colleges, education authorities and awarding bodies throughout Pakistan to protect their brands and reputations from the damage created by fraud.
The fraudulent reproduction of certificates has increased considerably in recent years, creating a huge headache for many organizations. Fake certificates can be used to secure employment in fields for which an individual is not qualified, damaging the reputation of businesses and awarding bodies and possibly even placing the public at risk. Our secure Certificate Printing solutions take care of all these problems.
---
Security features in Certificates
---
As specialists in secure certificate printing, personalization and design, we offer many innovative and highly effective security features incorporating the latest techniques for protecting your certificates against fraud. APEX works closely to understand the vulnerability of each certificate project to fraud and consequently advise on the most appropriate security methods to prevent unauthorized use.

Secure paper stock with a unique watermark
• Complex security background designs
• UV inks Holographic foils
• Bleed through numbering
---
Cheque Printing
---
Apex Printry (Pvt.) Limited is the only security printer in Pakistan that has permission from Ministry of Commerce to import CBS-1 Security Cheque Paper.
We can print any size or format of cheque in any number of colors and offer a wide variety of overt and covert security features, including bespoke security background designs, and watermarked CBS1 cheque paper. We produce continuous cheques or cut sheet cheques in any of the following formats.
• Continuous Cheques
• Cheque Books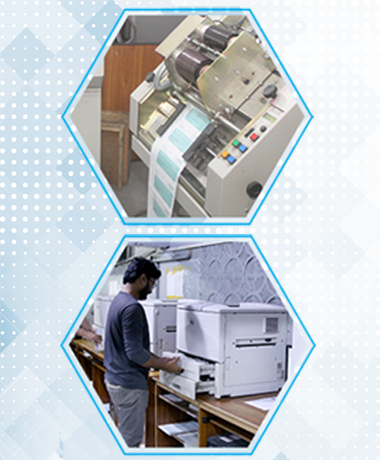 ---
Variable Data Printing
---
We can print personalize data with our sophisticated variable data printing software which allows us to produce all levels of personalisation on high volume from simple numbering details right through to more complex personalization using multiple data streams.
• Certificate Printing
• Print on demand
• Validation software
Reporting
We have all kinds of reporting solutions for our clients, available both in digital and print formats.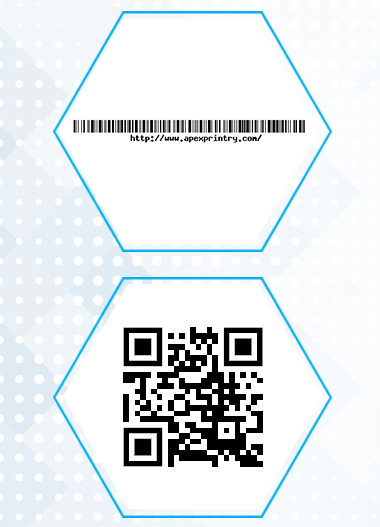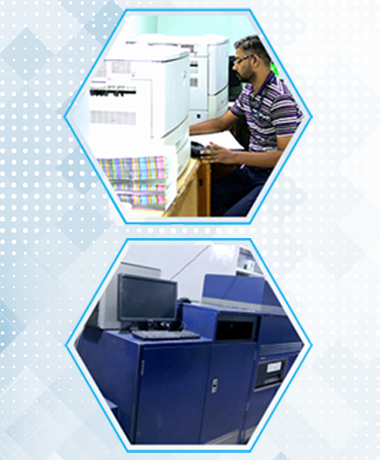 ---
Barcode Printing
---
Bar-coding and numbering
APEX produces a wide range of personalized documents with sequential or unique 1D and 2D barcodes. Handling complex data is what we do, and our IT team can create barcodes of any required size or format including those that require bespoke number patterns and algorithms.
We print a wide variety of personalized documents that incorporate barcodes:
• A3, A4 and A5 single sheets
• Multi-part sets, books or pads (NCR)
• Continuous sets
• Booklets
• Certificates
• Integrated label and card documents
Specialized Numbering
In addition to barcodes we are experts in formulating and printing a wide range of other specialized numbering formats to add an extra layer of security to documents.
• Modulus weighted numbering (often Modulus 10 or 11)
• Alpha-numeric randomized numbering
• MICR E13B Code Lines
• CMC7 Numbering
• OCR Numbering
---
Number Validation
---
Verification Solution
By scanning a unique QR Code on a certificate, it is possible to view the candidate's results online. This can be used externally to verify the content of an exam certificate and ensure that it has not been altered.
---
Bar-coded Documents
---
Sequential barcodes are increasingly used on a wide range of documents and products for easy tracking or unique identification purposes. Read on to discover a few examples of the bar-coded documents that we produce at APEX:
Returns Labels
Integrated returns labels are widely used by online retailers, whereby a dispatch or returns note includes a peel-out label with a unique barcode to track and identify a package throughout the returns process. We can produce these with traditional 1D barcodes as well as Data Matrix/2D barcodes.
Certificates
A 2D barcode is often printed onto educational or vocational certificates to authenticate and verify the qualifications printed on the certificate. Take a look at our software solutions which go hand in hand with barcoded certificates to manage this authentication process.
1) Paper
The first line of defense against the fraudulent copying of security documents is the base material, so it is vitally important to select the most appropriate paper for your document.
The first aspect of a security paper to consider is its availability. Restricted materials are only available to approved security printers like APEX and are therefore difficult for fraudsters to obtain.
Below is a guide to the materials APEX use to protect your documents.
CBS1 security paper
CBS1 is the standard security paper used for the manufacturing of cheques. The material is UV dull, enabling us to print invisible UV ink features. This paper is also chemically sensitized to highlight any fraudulent attempts to alter the cheque with solvents.
---
---
APEX holds a range of restricted watermarked papers ranging from 90gsm – 150gsm.
Existing off-the-shelf watermarked paper.
This is the most cost effective watermarked paper.
Bespoke watermarked paper.
We can create a bespoke watermark to your own design if required, to emphasize your brand and provide an increased level of protection. This requires the production of a custom dandy roller made at the mill, a relatively expensive process with extended lead times, so it is generally only suitable for very large volumes.
Iris watermarked paper
Our own APEX watermarked paper is not available from any other manufacturer and offers an excellent balance between the cost benefits of a regular watermarked paper and the additional security benefits of a bespoke material. It is available in two weights (95gsm and 120gsm).
---
---
There are a range of additional features that can be added to any paper to improve the level of security in your document.
Toner adhesion properties can be added to the paper to improve the way laser toner bonds to the base material.
Visible and invisible fluorescent paper fibers can be added as a covert feature, making the paper even more difficult for fraudsters to acquire or reproduce.

2) Ink
A wide variety of security inks are available to use in conjunction with good security design to authenticate your document. It is important to understand what you are trying to achieve when selecting the right security inks.
If your primary concern is detecting attempts to fraudulently alter your document, then we will always recommend the use of one or more tamper evident inks.
If your main objective is authenticating a document, then an instant verification ink is advisable. In reality the majority of documents that we produce will use a combination of both types of security ink, alongside other security features.
Invisible UV Ink
Designs printed in invisible UV ink are only visible under a UV lamp and are used to authenticate a document. Under UV light the ink can fluoresce in a choice of colors depending on the ink chosen. We recommend that invisible UV inks are used in conjunction with a security background design to provide another level of protection.
Thermo chromic Ink
Thermo chromic inks (or heat reactive inks) react to change color or disappear when subjected to heat, and are ideal for providing instant verification for documents such as cheques, vouchers or certificates. They are available in a range of colors, and can be formulated to react at different temperatures for use in hotter climates.
3) Security Design
Anti-Photocopy Feature
These reveal a hidden message when photocopied, such as "Void" or "Fraud" and can be used to provide another level of protection against fraudulent alteration. This feature is best used in conjunction with other security features.
Micro text
Micro text is extremely small text, not readily visible to the naked eye that can be used in place of lines in a form. It is used to authenticate a document with the aid of a magnifying glass.

Contact Us
G.M Accounts
Mr. M. Hammad Tariq Tareen
0333-3077321
UAN: 111-010-010
ext: 2202
G.M Sales
Mr. M. Hanif Khan
0300-8298418
UAN: 111-010-010
Ext: 2200/2204